New Guidelines for Compounding Medications: What Does it Mean for Pet Owners?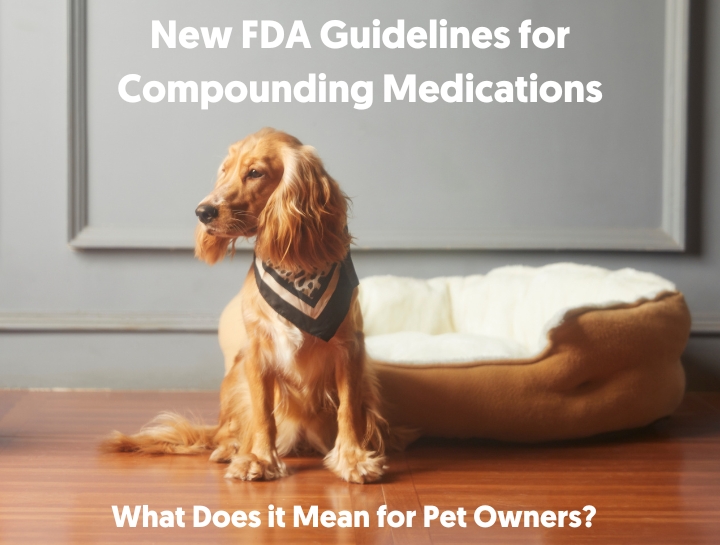 April 6, 2023
The FDA recently issued new guidance on compounded drugs (known as the GFI 256 FDA guidance) and it could have a significant impact on your furry friends' prescriptions. Let's take a closer look at what compounded medications are and what these new guidelines mean for you and your pets.
What is compounding?
Compounding is the process of creating a medication that is tailored to an individual animal's needs. This can be especially helpful for pets who have unique medical conditions or require a specific dosage that is not commercially available. While there are many benefits, compounding can also come with some risks if not done properly and that's where the GFI 256 FDA guidance comes in. It outlines best practices for ensuring that compounded drugs are safe, effective, and of high quality.
What does the GFI 256 FDA guidance mean for pet owners?
If your pet takes compounded medications, you may notice some changes in how those medications are prescribed, filled, and administered. Your veterinarian may need to work more closely with a registered outsourcing facility to ensure that your pet's medications are safe and effective. Some medications will no longer be available in-house at your veterinarian's office and will need to be ordered through an online pharmacy.
At the end of the day, the GFI 256 FDA compounded drug guidance is a great step for pet healthcare. It helps ensure that pets receive the best possible care and gives pet owners peace of mind knowing that their pets are in good hands.
If you have any questions regarding your pet's medication and whether or not it will be impacted by these new regulations, give us a call at (302) 227-2009 and we'll be happy to provide more information.
As always, thank you for entrusting Rehoboth Beach Animal Hospital with your pet's care!